Estimated reading time: 14 minutes
ONLY 112 GUESTS | 95 AWARD-WINNING CREW | 5-STAR CUISINE | INCLUSIVE FARES
"It's yachting, no longer cruising" experience the distinction. SeaDream Yacht club is different from large deliver cruising. Seadream's philosophy of casual perfection runs through everything they do. An award-triumphing team pampers the visitors, and the level of interest and service they pay to every one of their visitors makes yachting aboard mega-yachts SeaDream I or SeaDream II, feel as in case you are on your non-public yacht. Be as lively or as secure as you like and take in the ultimate in luxury, privacy, and pampering. 5-Star name cuisine can be enjoyed in the well-appointed dining Salon or on deck Al Fresco. A plus, SeaDream fares are inclusive.
Sleep under the stars. For those daringly romantic souls, reserve a night's slumber out on the forward deck. SeaDream provides pajamas, crisp linens and a bottle of champagne to add to your comfort.
Best Small Luxury Cruise Ship of 2015

ForbesLife
Named "Best Niche Cruise Line" at the Virtuoso Awards, SeaDream has achieved the industry's highest accolades for its two twin, casually elegant mega-yachts, SeaDream I and SeaDream II. With a maximum of only 112 guests and a 95-person award-winning crew, "It's yachting, not cruising," defines not only the size of the vessels, but the onboard lifestyle.
New Year, New You!
What Are Your Wellness Goals for 2021?
SeaDream offers many options to stay healthy onboard. From walking a mile, exercising in their fitness center, taking a yoga or tai chi class, or playing with the Watersports Marina toys, there are plenty of options to stay fit. Start your day with a fresh-squeezed juice prepared a la minute and select a delicious vegetarian or plant-based gourmet meal from the many options offered onboard.
Aside from the well-known, decadent indulgences like their dessert extravaganza, SeaDream's Dream Cuisine also features elevated vegetarian and vegan options. Delight in a wide variety of vegetarian and plant-based options, crafted with the attention to detail you have come to expect from SeaDream. Want to learn more about healthy eating on board? Watch a Youtube video featuring their Hotel Manager, Jamie, by clicking on the link below!
Health and Wellness Onboard
What are the best ways to stay healthy onboard? Here are some ideas:
Walk a mile with us around the ship
Take a Yoga or Tai Chi Class
Check out the toys in their Watersports Marina. From Kayaks to Stand-Up Paddleboards and Jet Skis, there are plenty of ways to stay active while having fun
Exercise in their fitness center
Swim in the pool
Relax your muscles after a workout in their sauna or hot tub
Treat yourself to a Thai massage
Request a freshly squeezed juice
Select a plant-based or vegetarian option from their menu
Promotions Offered By SeaDream
Ultimate Booking ASSURANCE
Book with Peace of Mind
For all new bookings only made after July 22, 2020, on voyages that sail prior to June 30, 2021, that are affected by travel restrictions due to Covid-19, SeaDream will issue you a full cash refund – or you can get 120% of the amount credited towards a future voyage. You decide.
But to take it further: if there are no travel restrictions and you don't want to travel anyway, you can do so and SeaDream will move your funds to a future date.
SeaDream Yacht Club believes it is wrong that guests should take the risk and we are now taking that obstacle away:
And best of all, you do not have to decide until the day of departure.
SeaDream with Confidence
SeaDream with Confidence is their brand-new, risk-free booking policy to make your luxury travel dreams come true with peace of mind. For voyages booked after December 1, 2020 and sailing before December 15, 2021 you will receive SeaDream's ultimate assurance:
Change your voyage for any reason up to 15 days from departure
Receive 100% Future Voyage Credit for the amount paid
Your Future Voyage Credit will be valid for 12 months after your original sail date.
So go ahead, dream a little! From SeaDream's casual elegance, award-winning service, 5-star dining, and inspiring itineraries, SeaDream's yachting lifestyle is a luxury dream come true. SeaDream provides a much-needed escape, a chance to disconnect from the world and recharge in a luxurious, safe, and pampering environment.
Imagine enjoying all your favorite things about SeaDream, including their iconic Champagne & Caviar Splash, Watersports Marina, Thai-Certified Spa, Balinese Beds, Top of the Yacht Bar, 5-Star Cuisine, Fresh-Squeezed Juices, Sparkling Pool and more. Most of all, be splendidly spoiled by SeaDream's award-winning service.
SeaDream with Confidence Terms:
Guests can cancel up to 15 days prior to departure and receive a Future Voyage Savings Certificate of the amount paid to SeaDream.
Valid on new bookings only starting December 1, 2020 for voyages up to December 15, 2021
Offer can be revised or rescinded at any time and without notice.
Valid for Groups.
Not applicable to charters.
Airfare and hotels are not included in this offering.
IT'S YACHTING, NOT CRUISING®️ | ENJOY THE DIFFERENCE
Sailing Soon! Book Newly Released Voyages…
Just in: these four spectacular voyages are now open for bookings.
Enjoy a Luxurious Lifestyle Onboard
SeaDream provides a much needed escape, a chance to disconnect from the world and recharge in a luxurious, safe, and pampering environment.
Now Open For Booking, 2022 Mediterranean Season Including Valleta
SeaDream is proud to announce the exclusive release of their 2022 Mediterranean itineraries. This includes voyages in the Eastern Mediterranean, Israel, and the Black Sea. During their 2022 Mediterranean Season, they will also recreate in 2022 some of the Mediterranean voyages that were canceled in 2020 due to Covid-19. This newly unveiled season, kicking off April 2022 through November of the same year is brimming with exciting destinations. These luxury twin mega-yachts will sail to exclusive hotspots like the picturesque island of Santorini, the historic city of Istanbul, and the paradise playground of St. Tropez for a total of 47 new 2022 voyages!
Book SeaDream 2023 Voyages Today!
SeaDream has been working hard to expand your options and offer you exciting new voyages you can look forward to. Now you'll have the chance to join in sailing to even more of the world's most exotic places. Their Mediterranean highlights include:
Many of the voyages, canceled in 2020 and 2021,have been added to 2023 itineraries.
Four 7-day voyages have been added, from Athens to Istanbul and reverse. The itineraries are not the same so that they can be booked round trip Athens and not visit the same the ports twice.
Because of the popular reception of SeaDream's Israel voyages in 2021, they have added two voyages to Israel and the Eastern Med in 2023 – one in May and one in September.
For those guests who like transatlantic voyages, SeaDream is offering a very unique 16-day Palm Beach to Lisbon voyage in April 2023.
Take advantage of this exclusive preview and reserve your luxury voyage before bookings open to the general public. Enjoy these scenic waters and take part in exciting new itineraries, with endless opportunities to relax and enjoy every moment. Experience five-star culinary dining, unparalleled service, and pamper yourself with their Balinese Dream Beds and Thai Spa to enjoy true serenity on your way to great adventures.
Exclusive wine tastings are followed by the Winemaker's Dinner, where SeaDream's Executive Chef's degustation menu is complemented with top cuvees from SeaDream's visiting Winemaker. An evening unique to their Wine Voyages is all about an unforgettable culinary experience that is incomparable to other wine cruises. Taste only the best, exclusive and most memorable reds, whites and champagnes
Search Voyages
Sailing Safely During COVID-19
SeaDream is committed to protecting your health and safety. These are some of the things we are doing to ensure safe sailing:

• Embarkation will be staggered with time slots between Noon to 6 PM or later if you have a late flight.
• Upon embarkation, you will be greeted by a Doctor who will take your sample and run the test using Abbott ID Now machine which will give the negative result within 15 minutes.
• Using a Thermal Scanner, we will record your temperature for a daily temperature log. This Scanner will also be used while re-embarking the Yacht after any shoreside visits. This takes just a second.
• While entering the Yacht, you will notice special floor mats that are there to clean and sanitize your shoes.
• Your stateroom will be pre-sanitized using Altapure AP-4 which is an advanced ultrasonic fogger used for high-level disinfection in hospitals, burn units, and clean rooms.
• SeaDream's hospital onboard is well stocked with all necessary medications and PPE. Each Yacht has an experienced doctor onboard at your service.
• We will use UV lamps, in addition, to sanitize the staterooms on a daily basis.
• SeaDream crew members also undergo frequent health checks to ensure safety on board.
• All crew members are certified for the WHO's Infection Prevention and Control (IPC) for novel coronavirus course and CoVid-19 Contact tracing course from Johns Hopkins University.
• SeaDream crew members will serve you and carefully place your buffet selections onto your plate as you may request.
• Onshore excursions will be limited to predesignated places in an organized fashion.
ONLY 112 GUESTS | 95 AWARD-WINNING CREW | 5-STAR CUISINE | INCLUSIVE FARES
---
Private Yacht Cruises with SeaDream Yacht Club
Are you searching for the perfect way to reward your business team for their success last year? Looking for a private getaway to offer friends or family an escape from their daily routine? Want a unique and intimate wedding that your guests will talk about the rest of their lives? Offering a remarkably different vacation experience, a SeaDream Charter is the perfect solution. If you want a private yacht cruise that all your guests will remember, your journey starts by NorthStar Advisor. Benefits of Chartering with SeaDream:
Up to 112 guests in an intimate, open unstructured setting
1 to 1 guest to crew ratio, resulting in thoughtfully personalized service
Enjoy privacy, intimacy, and security aboard a mega yacht
Inclusive of all gourmet meals featuring award-winning, customizable cuisine
Includes Open Bar and wine with lunch and dinner. Gratuities included
All guests may dine in one seating in the Dining Salon or Topside Restaurant
Meeting spaces to accommodate up to 112 guests
All ocean-view suites and staterooms
Customized itinerary calling on small, intimate yachting harbors
and more…
SeaDream Yacht Club Videos
Expert Cuisine
Award-Winning Service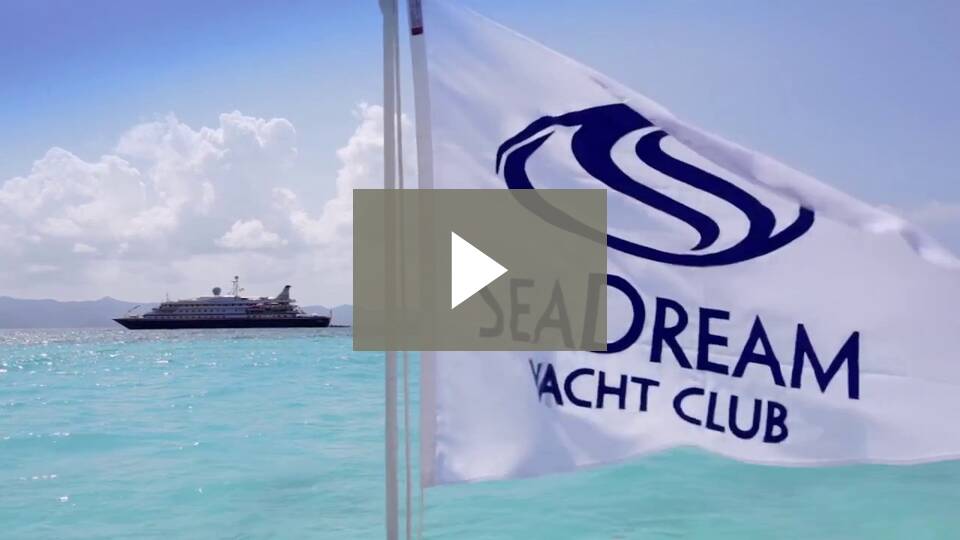 Celebrate: Planning the Perfect Wedding at Sea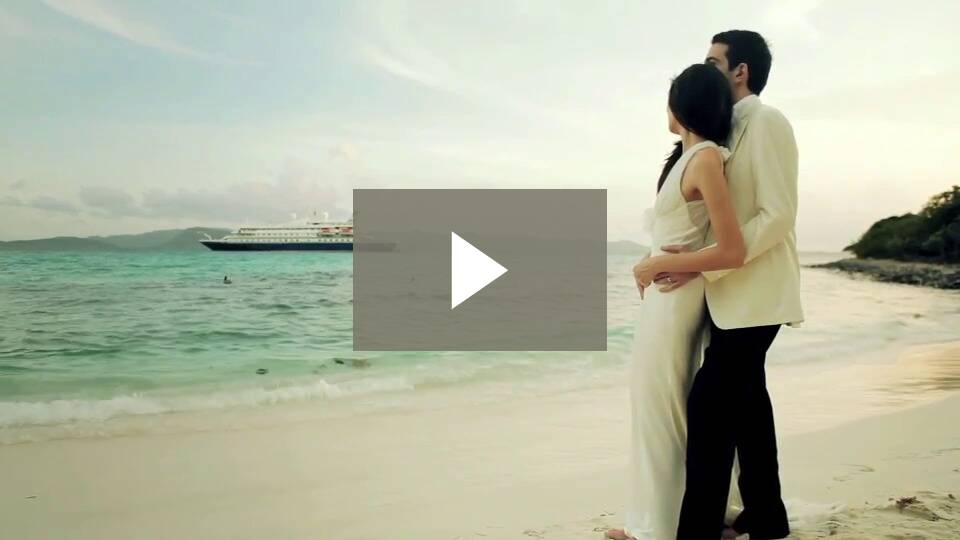 Related SeaDream Links: